FAQ - Strathaven Airfield
How do I find Strathaven Airfield?
Please click here for notes about driving here, Or use Google Maps
How long have people been flying at Strathaven Airfield?
People started flying here in the early 1960s. Some more information about the airfield history is on its website.
How many runways do you have?
There are three grass runways, ranging from 530m in length to just 200m. This gives us a good choice so we can land into wind as much as possible.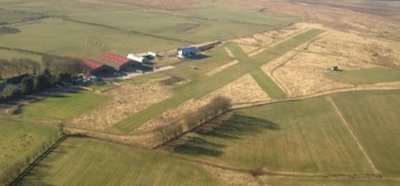 What does club membership cost?
Club membership is £250 a year and includes unlimited use of the airfield for all take offs and landings, wi-fi and discounts.
What facilities are there at Strathaven?
We have a number of runway options which cover almost all wind directions. We have modern hangars to store aircraft and a comfortable clubhouse.
What aircraft services do you offer?
We provide airframe overhauls and wing servicing/tuning. Graham McNally is a BMAA Inspector and can provide: permit inspections on all categories of microlights.
Do you sell aircraft parts?
Yes, we can source and supply parts for your aircraft.
Can you fit aircraft parts?
Yes, we provide a fitting service for aircraft parts.
Can you inspect and check fly my microlight for its annual permit to fly?
Graham McNally is an inspector for the BMAA and can provide this service.
Where is the airfield located - by air?
For directions by air visit Strathaven Airfield's page
here
.
What type of air traffic service is there at Strathaven Airfield?
The service is Safety.com on 135.475. There is no control tower, so you are making blind calls to warn other traffic of your location and intentions.
Can I get fuel at Strathaven?
If you telephone the office in advance on 0797 997 1301 unleaded fuel can be arranged.
What is the landing fee at Strathaven?
A £5 donation is expected and welcomed..
Is there overnight accommodation at Strathaven?
There is no accommodation available on the airfield but it is available in the nearby town. Many visitors have enjoyed the
Best Western Strathaven Hotel
Still have questions? Call us on 0797 997 1301